The Old RalphvandenBerg.com
Version 2 to 3
You are currently looking at the 3rd version of RalphvandenBerg.com. There have been a number of changes since the previous version; most of which are "under-the-hood". Some visual changes are the floating menu bar. Scroll up and down the page and the main navigation stays in reach.
The handling for the Ramblings has also changed. Now instead of a complete list of Ramblings on the right hand side while you are reading one, there are only a selective few links such as next/previous and related Ramblings. Many other changes involve cleaning up the mess as a result of experimentation and adding on new features.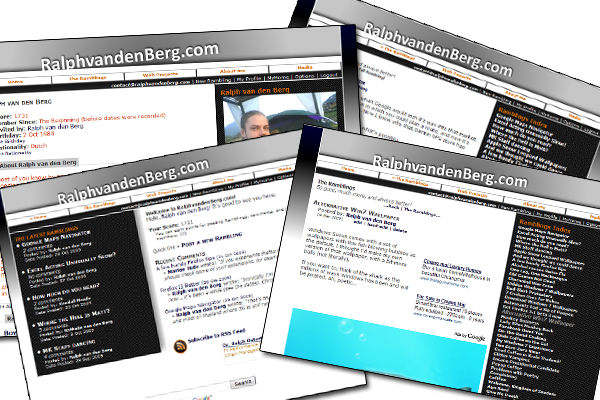 Version 1 to 2
I've remodeled this side to look and work much better, but I know some people might miss the way it used to look. Here are some screenshots of how
it used to be
.
It used to have bright orange boxes scattered everywhere.
The Ramblings used to all be shown on one page.
Every page had a huge box showing your login details.
When you resized the page, the ads would drop below the main content.
It was the result of mad evolution. That's how it became so messy.
Crude coding sometimes made it incredibly slow.
Planning was an idea that didn't happen in that time.
It was fun, but now it's time to get a bit serious.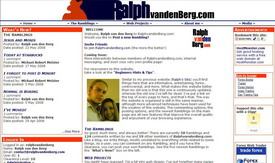 What's all new now?
The improvements I have made while I've upgraded to version 2 of RalphvandenBerg.com are vast. I've started by harnessing the powers of the .htaccess to make all the URLs look good. You'll see now that this website appears to have many more pages than the previous website, but I'll tell you a secret: it actually has LESS! I've just given you, Google, and everybody the illusion that there are many pages, which works to everybody's advantage. It cleans up the mess that it was before.
Rambling Pages
In the Ramblings, on the main page, you'll only see a small preview of each Rambling, and you have to click on the title or on "read more" to read the full Rambling. The advantages of this are that now, a specific Rambling has it's own address, and you can easily link to them from outside. All you have to do is remember the number of your Rambling, and you can't send people a link to read it.
(E.g. http://ralphvandenberg.com/ramblings/1)
Now you can also Digg individual Ramblings. Instead of having a "support us with a digg" the page that has all the Ramblings, you can submit, or Digg a specific Rambling that you like.
Commenting
I've answered peoples requests for a bigger comment box when commenting on the Ramblings. The small input box is still there, for quick commenting, but you can choose a bigger box if you want to write more, and see what you've typed. Actually, you can type the same amount of text, regardless of which size box you use, but it offers better overview when you type long texts in a bigger box.
And More!
There are many more things that have improved. This new version of RalphvandenBerg.com features options such as password retrieval, password changing, and I'm working on something that will revolutionize some small parts of your life and mine.

Pages in Etc