9 Great Things about Twitter
I was honestly planning on doing 10 Things I like about Twitter but I've been stuck at 9 for a while now. It's Twitter's birthday, turning 5 now so instead of pondering for the last great thing, I decided to cut back by one and get this out on the webs. I'll be brief- here are 9 things I'll bring up in favor of Twitter.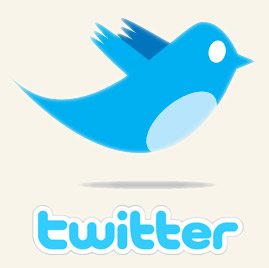 1. Short and Sweet.
The character limit really lets you be creative. It gets into some messy SMS type spelling and grammar but it's really easy to get something published on the Internet without having to write up 3 to 5 hundred words (like this Rambling).
2. No distractions
Of course there are tons of distractions, but what I mean is you tweet, follow other tweets, and that's kind of it. There's no tagging, joining groups, poking, etc. Very simple objectives. I call it a kind of NBS approach. (I'll explain NBS on request only).
3. Tweet anywhere
Twitter really works well on mobile devices where you get to tweet something about where you are now. You won't always be at a PC or laptop, and my guess it the most interesting things happen when you are away from them.
4. No rules
Besides the character limit you really can tweet however you want. You can have multiple twitter accounts and use the tweets for any purpose. Your blog or facebook account can automatically publish to your twitter or vice versa, it's all good.
5. Tweet how you like (Apps)
There are tons of ways to use the Twitter service. There are tons of apps for desktops, mobile devices and web based ones. Use the one you like.
6. Use your tweets for any purpose
You can just post links or spam people. You can post whatever you happen to be eating at the moment or you can post actual interesting things. You can use your tweets to update your website, publish the latest specials or upcoming promotions.
7. Simple privacy settings
Either you protect your tweets or you don't. That's all there is to it. Public or private. On or off.
8. It's about the now
A single tweet expires really fast. Depending on where the tweets end up, they could be valid only a few minutes or just one day. On your twitter timeline if you follow a couple of people, older tweets get pushed down off the timeline pretty quick.
9. Optional Anonymity
With Twitter you don't have to be you. Your twitter account can be the business or a fictional character or an automated feed publisher.
There we go. A quick rundown of 9 things I like about Twitter. Much of this is debatable of course; I welcome it in the comments below.
I've got a couple of Twitters, feel free to follow:
@ralphvandenberg
and
@rvdbdotcom

Posted on 22 March, 2011Posted on 4 April, 2011Posted on 17 April, 2011Posted on 17 April, 2011
< Please log in or register to post comments >

Recent Activity