How to Ruin a Wedding as a Photographer
The invitations are sent, the guests have arrived, and the bride is ready to walk down the aisle... but the photographer is nowhere to be found. While most wedding photographers are contractors, not participants, they play a huge part in a wedding's success. Show up late (or not at all), forget the film or focus on the wrong details and you can easily ruin a couple's big day. Read on for a list of what "not" to do when you photograph a wedding.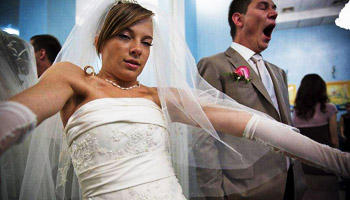 Don't Check the Site in Advance
: By not bothering to visit the church or reception hall, you'll save yourself plenty of time. You'll also miss pesky details like the lack of lighting at the church and the gaping hole in the wall at the reception hall. The bride and groom know who they are, so they don't need clear, well lit photos, right? Wrong! Scouting sites in advance will help you pick up on all those little details that make a big impact in your finished photos and save you from scrambling for locations on the big day.
Focus on the Wrong Guests
: Sure, the bride and groom are the ones footing the bill, but the cute bridesmaid in the low cut gown is much more photogenic, right? Wrong! While pictures of the wedding party and guests are important, make sure you aren't distracted by a pretty face. The bride doesn't need 4 photos of her much prettier cousin.
Don't Bother with Insurance
: Insurance is a waste of money, what could go wrong?
When the groom's grandma trips over your light stand; or you realize you shot the entire wedding party sans film, everyone will understand, right? Wrong! As a photographer, you open yourself to lawsuits if someone is injured by your equipment or if you fail to deliver the goods. Invest in a good insurance plan to protect yourself and your business before snapping a single exposure.
Start Big - Really Big
: If you just received a camera for Christmas, and simply know you are a great photographer, book a friend's wedding as your first gig. The bride and groom will enjoy paying professional rates for amateur photos, and the best way to learn about the business is to jump in with both feet for a big event, right? Wrong! You should already have professional equipment and skills and have assisted at a few weddings or large events before attempting one on your own. Weddings are huge, once in a lifetime events, and you won't get the chance to reshoot when your $100 Walmart camera lets you down.
Don't Have a Backup Plan
: You've picked out the perfect outdoor location for the wedding portraits, so your job is done for the big day, right? Wrong! People get married every day of the year, and rain, snow and inclement weather can happen. Choose an indoor venue as a backup, and make sure you have permission to shoot there, just in case you get caught in a storm.

< Please log in or register to post comments >

Recent Activity