Mobile Ramblings
We are in an age now where we all walk around with smartphones that are capable of limitless possibilities. The phone in your pocket now likely has more computing power than the lunar landers used in the Apollo program. Apps and updated operating systems keep broadening the range of options available at the touch of a screen. It has come to the point now where I will be composing most or all of my Ramblings from my phone.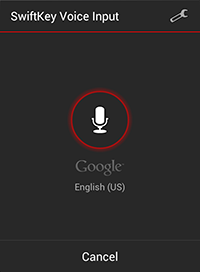 Typing large volumes of text on a phone is not exactly the pinnacle of technology at this point, but constructing complete words and sentences with adequate spelling, punctuation and grammar seems to be an artform that is not flourishing on mobile devices. The tools available to us to type on mobile devices are also getting smarter. Keyboards aren't simply places where you key your words in letter by letter. Things like auto-correct, auto-complete and even smart keyboards that learn your typing style and predict the words you will type next make it all much easier for you to put your thoughts down despite the size of your fingers.
I am currently typing this using the smart keyboard mention above just now. SwiftKey on my Android 4.0 device is making this text composition a breeze. Of course these Google phones have some other tricks up their sleeves. Text-to-speech is all the rage these days so I will attempt the next paragraph I sing only that. If the text isn't recognized and worded as I intend then I will retry it, but I will make a note of the number of attempts it took and in case there were errors I will mention them as well.
Speaking to your phone can be a little bit awkward but it'll save you some time. It is potentially also a lot faster than typing out each and every single word. Just to let you know and to be honest with you I have made only minor corrections in the text that it has so far recorded. I am also manually putting in the punctuation at the end of the sentences. Nevertheless, this is a very advanced input method.
Now I do get the feeling that the voice input is handled slightly differently through the SwiftKey keyboard as through the stock Android one. In Android 4.0, the stock speech-to-text option actually starts putting down text while you are still talking. In Android 4.1 Jelly Bean you won't even need an Internet connection as you do now.
In short, it's getting easier and easier to write up what you need with more accuracy and less effort on mobile devices. I personally only have experience with Android phones but I'm sure that iDevices are not far behind. Let's hear about your experience with mobile text input in the comments below.

Posted on 12 July, 2012Posted on 12 July, 2012
< Please log in or register to post comments >

Recent Activity