Android L: The Lockscreen in Depth
In my previous rambling (
Check out my first impressions on Android L
) I gave the new lockscreen in the developer preview build of Android L a "meh" rating, but I actually want to go into a bit more depth for this particular feature. There are some subtle ways you interact with the lockscreen which you might not notice at first, but they just might be enough to increase my rating to an "alright".
Apart from the notifications, there is now just a simple 4-way swipe system. You can swipe pretty much anywhere on the screen, you don't have to start from edges or from specific areas like you would in previous versions of Android (Unlocking by pulling the lock icon to the edge of the circle around it, or pulling the camera app in from the right edge of the screen). Basically what this means is you can start in the middle, for instance, and then swipe up, down, right, or left.
Swiping to the left launches the camera app. This we are used to already. Swiping to the right launches the dialer. To unlock, just swipe upward, and if you swipe down you get your notifications. On the rare occasion that you have no notifications it will pull down your settings toggles.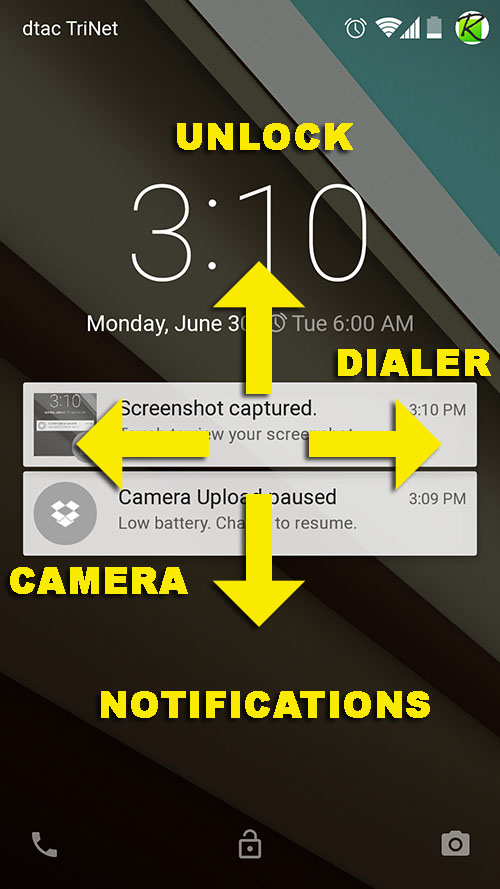 Speaking of notifications, you get 2 types. The higher priority ones show up in the middle. These are things like new messages and missed calls. You double tap them to act on them. The low priority ones stay hidden in the drawer and include things like Google Now cards. If you have the notification drawer down with notifications you can still perform your 4 directional swipes, except in this case swiping down again gives you the settings toggles, same behavior as when you use the notification drawer when your phone is unlocked.
That's pretty much it. Very minor things which the casual user might not even notice. For some us geeks, however, it's the subtle changes we'll pick up on pretty quick.
Stay up to date with my Android L experiences via Twitter:
#AndroidL by @ralphvandenberg

Posted on 30 June, 2014Posted on 30 June, 2014
Comment by blod
Posted on 1 August, 2014
< Please log in or register to post comments >

Recent Activity