Google's new Inbox - First Impressions
Google has been working on a new system. Something that will revolutionize email. I think they've done it.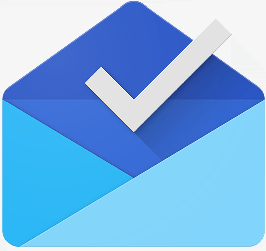 Their new app is simply called Inbox. It probably won't replace Gmail for everyone, but it has done so for me. The way I handle emails now has completely changed.
The easiest way to try to explain what this new Inbox is all about is to think of it like this: Your email inbox is now a to-do list. Each new email that comes in needs some interaction from you. Maybe you just need to read it, maybe just answer it, or maybe much more actions are required on your part before you can dismiss this particular email. Out of sight; out of mind.
You can still email like you would usually, but there are 2 new actions that play a key role in changing the behavior of your Inbox. There is "Snooze", which will hide the email until a later time, or "Done" which basically archives the email. Let's take an example. An email comes in and all it requires is that you read it. You don't need to reply to this particular email, it's just some updates. If you don't feel like reading it now, but instead later in the evening, you "Snooze" until 7pm. The email disappears and that's it. At 7pm it comes up again. Then you read it and mark it as "Done". Email goes away. (You can find it of course in the "done" items).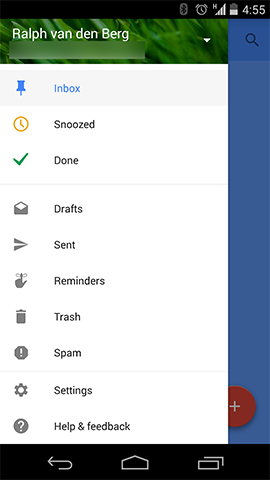 If the email is more complicated it gets more interesting. If you receive an email which requires you to gather some information and then send it back, you can firstly snooze it until the time you decide to actually do it, but you can add a reminder to the email. Basically just add a small note to the email that reminds you what you need to do. Once you've gathered the information, you write a reply and send it. Now you can mark the email as "Done", and once again, it disappears from your inbox.
This system makes so much sense in a regular workflow. At a glance you can see emails with the reminder notes you've created. Speaking of reminders, you can create simple reminders which sit in your inbox along with the emails you've not completed yet. These reminders work with Google Now reminders seamlessly, so it is very intuitive. You can start to see how you start to treat your emails as to-do items. Now when I launch Inbox (instead of Gmail) I'm faced with only items that need my attention and nothing else. My inbox is so de-cluttered, at some points in the day, after spurts of productivity, my inbox is completely empty!
This is why I'm so excited for Gmail's new Inbox. There are a bunch of other features which are nice, like bundling messages that belong together (even more than currently in Gmail) and showing key information about emails before opening them up (purchases, attachments, etc). Inbox is currently invitation only, but you can request access by emailing to
inbox@google.com
or asking a friend if they've got a spare invitation to send your way. Sorry, I've spent all of mine.
Have you had a chance to try Google's new Inbox? Share your experiences in the comments!

Posted on 17 November, 2014
< Please log in or register to post comments >

Recent Activity