Jeric Goodsman's Profile Page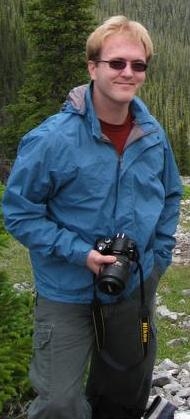 Score:
31
Member Since:
20 Mar, 2009
Invited by:
Ralph van den Berg
Birthday:
16 March, 1984
Nationality:
Canadian
About Jeric Goodsman
I was born in Canada and am currently living in Southern Alberta, Canada. I added to the chaos of Ralph's younger years while living in Chiang Mai, Thailand - where, I'm ashamed to say, I was not a good influence!
I have two older siblings; The oldest is my brother, Devin. He is currently working on his phD in Forest Biology and Management at the UofAlberta in between rock-climbing trips. My sister, Tanna, is the middle kid, she's trying to get out of her credit card debt (hahaha) so she can move to the US and probably make less money than she does working as an optician in Calgary, Alberta. Tanna has also earned degrees in psychology and philosophy from the UofL.
After having one foot over the precipice I somehow managed to turn my life around and am now starting the final year of the Bachelor of Science (Major: Geography, Concentration: Geographical Information Science) program at the University of Lethbridge. I transferred to the University after obtaining a Geomatics Engineering Technology diploma (Graduated: 2010) from Lethbridge College.
Ramblings by Jeric Goodsman
posted: 12 Apr, 2009

You should become a member at RalphvandenBerg.com so you can message Jeric Goodsman or become friends.