Some more stuff to watch
I've recently wrote about some Stuff you should be watching, and you can consider this a part 2 or a follow up on that. Just a quick recap on the shows I posted about last time. I think Sons of Anarchy is done, they wrapped things up nicely. Futurama is between seasons. You never really knows with these kinds of shows. The Event, Chuck and Big Bang Theory are still steadily releasing episodes so I'm still watching those.
Here's some more shows I've been enjoying. Notice this time I've included some shows to avoid. I gave them a fair chance- 3 to 5 episodes and if they don't get me then, screw it. As usual, I will try not to spoil anything so I might be a bit vague here and there.
Spartacus - Blood and Sand
Currently on Season 1 (2?)
Spartacus Blood and Sand is very cool for those who enjoy a blend of Gladiator, 300 and a hard R-rating. There's a Thracian who ends up getting screwed by the Romans and ends up in Gladiator school. It's pretty gritty in there and you get some pretty graphic fight slo-mo's that we've become familiar with in there era movies. I say he's in Gladiator school because I haven't really watched that much of it yet and even if I did I don't want to spoil anything.
This series is not really of the easy-viewing type. There's a fair share of language/violence/sex in each episode, but if you like that- hey!
True Blood
Currently on Season 4
The easiest way to describe True Blood is it's like Twilight but you take all the gay chick-flick out of it and replace it with good old sex, drugs and rock 'n roll. Each season has a supernatural villain and there are a bunch of other supernatural powers at play with humans in the middle or sometimes taking a strong side in the battles and wars that happen in the shadows.
The main character is a mind-reader (potentially more than that) girl named Suki and she has some love interests in the vampire community and some other communities. Plus vampire blood is a very popular drug among humans and werewolves. Just go ahead and watch it, although if I remember correctly, it's kind of a slow start.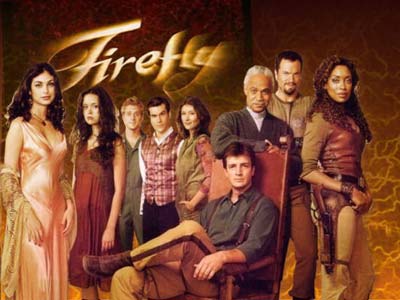 Firefly
Canceled in Season 1
Firefly aired briefly showing episodes in the wrong order. Basically the network screwed it up. It's a great 14 episodes which I highly recommend getting the box set for or something. It's kind of a science fiction show but definitely feels more like a western. There are 9 very unique characters with rich backgrounds and after just 1 or 2 episodes you really "like" them. There's a very good balance with action, humor and drama and the last thing anybody should do is not give Firefly a chance because "they're not into scifi". Firefly is a great show; part of me wants to stop writing about Firefly for fear of not doing it justice.
Oh, when after you're done watching it (twice, three times?) you should see the movie: Serenity.
Avoid: Smallville
Currently on Season 10
Smallville is Superman before he's become a man. So it's super-boy, or super-teen. It's basically a bunch of super-puberty with the occasional teen-romance and evil super-villain. I'm just so bored with this emotionally insecure Clark Kent dealing with high school and not enjoying his super powers. Think about it: if you realized you were invulnerable, would you go whining about it to your stepparents or would you go about robbing banks and flying around the world? At least the first bit when you have the new powers but not the responsibility just yet. Of course it's not the right thing to do, but that's what makes this series so dull and boring. Little Kent is such a pussy angel I can't stand it. Grow a pair!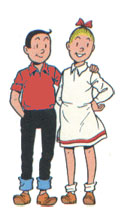 Avoid: The Cape
Currently on Season 1
Ex-cop is framed and becomes a superhero. This is the kind of superhero that's less dependant on mutation like batman so I should like it, but not here. I think it may have something to do with the comic book feel they try to give it. I was never really a comic book guy (if you don't count Suske en Wiske); I know Batman from TV and movies and I don't like Spiderman. Another part that bothers me is the main hero's family. To me it really feels like it's slowing the story down to the point where I dislike the characters that the protagonist cares most about. It just doesn't work for me.
Honorable Mention: Pioneer One
Currently on Season 1
Pioneer One is a non-tv type series. I believe they just run on donations and you can download it or watch it online for free (as in beer). The story line is a mystery involving some old soviet Mars mission. It's a bit slow off the bat but the mystery will draw most of you in like it did me. At the time of writing this only 2 episodes have been released and the next bunch depends, like I said earlier, on folks like you and me putting in a couple bucks or buying a T-shirt. Check out [pioneerone.tv] for more information.
As usual, I'd like to hear what you like to watch, or which shows you think we should all avoid. Please use the comment area below. Thanks!

Posted on 22 March, 2011Posted on 22 March, 2011Posted on 8 April, 2011
< Please log in or register to post comments >

Recent Activity