Bin Laden, my thoughts on his death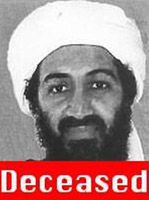 Osama Bin Laden, the face of terrorism as we know it, is dead. If this is the first time you're reading this news, welcome to the world because you've obviously been excluded from the human race up until now. Twitter has seen records broken with the news after Obama made the announcement from the White House. Like many people who took to the street singing and rejoicing I was happy to hear the news, but there are some thoughts and what better place to voice them than in this Rambling.
So, first of all, congratulations! I feel like high-fiving Barack, but I'm afraid that the term "Mission Accomplished" only applies to the mission that week that resulted in the assassination of the terrorist leader. You've probably heard others saying the same thing- the act of killing Osama Bin Laden is symbolic at best. It's only the face, the mascot of terrorism that now is no more. Like how Phil (
phillyd.tv
) put it: you don't shut down the entire McDonalds chain if you kill Ronald McDonald. What I'm afraid is more likely to happen is severe retaliation out of anger. I know I'm not the only one with this idea because all American embassies all over the world are beefing up security and warning American citizens of potential assholism.
What else? Burying him at sea. I think it's a weird thing to call it "burying" when it's at sea. You bury people under dirt, not water. Either way, smart move because this way there can be no shrine or something built under water by his followers. Actually, let's invite all his followers to where he's "buried" to build a shrine! Not a bad idea after all!
In the sequence of events, which started in September, 2001, it now feels like it's in the part after the climax. Imagine if this was a movie, the capture/kill of the evil boss by special forces would be the highlight, followed shortly by credits and a text-based end to the rest of the story. But damn! This was a long, drawn out movie! It took nearly 10 years of combined effort from powerful nations' military and para-military forces to hunt down this one man. Does it not quietly tickle your brain that it happened with perfect timing for Obama's re-election campaign? I really don't want to make assumptions, but it's kind of in your face.
Finally, I love all the humor that's coming out of this situation. My personal favorite is Obama saying "Anyone else want to see my birth certificate?" just before throwing down the mike and leaving the stage. Of course now the hot question people are asking each other: where were you when you heard the news? Please share in the comments below.

Posted on 3 May, 2011Posted on 3 May, 2011Posted on 4 May, 2011
< Please log in or register to post comments >

Recent Activity