One Leg, One Machinegun
It was maybe half a year ago that someone was telling me about this crazy zombie movie with some cyborgs or something in it. There was this girl who had parts of her body manufactured into weapons. I can't remember exactly what happened, but I remember it sounded pretty weird and actually kind of lame too. Until I actually saw that movie...
I watched Grindhouse: Death Proof a few days ago. It's a bit weird at times, but it nearly passes off as a regular movie with a bunch of b-movie effects thrown in. The next day I put on the second half of the Grindhouse package. Some movie called Planet Terror. I had no idea what to expect. Bruce Willis is in it a bit... Maybe one or two less famous people... It's a bunch of gore and puss-popping zombies...
Then suddenly this guy pops a machine gun into his girlfriend's stump where her leg used to be. If you haven't seen the movie, then you have to see the pictures.
Then you have to see the movie.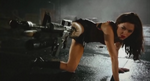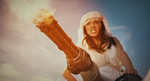 Click on each thumbnail for a larger version.

Posted on 23 July, 2009
< Please log in or register to post comments >

Recent Activity